Amy L. Britt Selected for Admission into the American Academy of Matrimonial Lawyers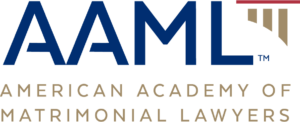 Parker Bryan Family Law is pleased to congratulate Partner Amy L. Britt for her acceptance as a Fellow of the American Academy of Matrimonial Lawyers (AAML).  The AAML was founded in 1962 to recognize and develop leadership that exemplifies the highest degree of professionalism and excellence in the field of family law.
The Academy awards fellowships to matrimonial lawyers across the country who exemplify competence as negotiators and litigators in family law matters related to marriage, divorce, child custody and visitation, matters affecting unmarried cohabitants, pre- and post-nuptial agreements, separation agreements, business valuation and property distribution, alimony and support.
The AAML's consideration and acceptance process is rigorous, requiring at minimum a decade of substantial family law practice, leadership service on the national or local bar, experience as a matrimonial law instructor, amicus curiae participation in an appellate family law matter, and an extensive competency evaluation.
The AAML is comprised of fewer than 1500 lawyers, with fewer than 40 lawyers currently practicing in North Carolina.