6 Parker Bryan Family Lawyers included in Business North Carolina's Legal Elite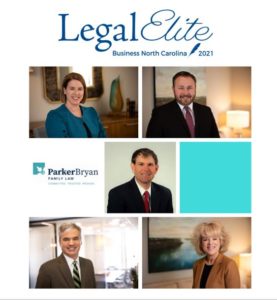 Parker Bryan Family Law is pleased to announce that four of the firm's lawyers have been named to Business NC Magazine's 2021 Legal Elite in Family Law. They join two lawyers already in the Legal Elite Hall of Fame: John Parker (2007, retired) and Kimberly Bryan (2015). An attorney is included in the Legal Elite Hall of Fame when he or she receives the greatest number of votes from attorneys statewide in a practice area.  Once included in the Hall of Fame, attorneys are no longer eligible to receive the award annually.
2021 Honorees of Legal Elite (Family Law) include:
About the Legal Elite selection process. Each year, Business NC sends ballots to more than 20,000 active members of the NC State Bar. Members select the best lawyer in each field but may not select themselves. Members can only vote for attorneys from their own firms if they also chose peers from other firms in the same category. With more weight given to outside votes,  fewer than 3 percent of the state's lawyers were named to the list this year.